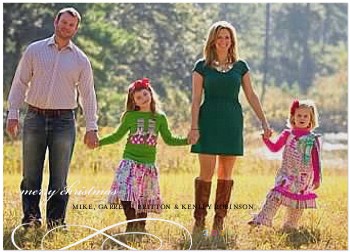 Swirl Greetings Christmas Card

The turkey leftovers are sitting in the fridge, the deer "rut" is on in Georgia which times nicely with the holiday shopping that has begun at home.
Mike got big props last night when I came home from getting my hair "did" to find that he had bought the tree, put it up, purchased additional Christmas lights, strung the tree with thousands of lights, and hung each and every ornament perfectly- with the help of our two little elves. What a great surprise!
You don't see that everyday….
Now it's on to tailgating for big football game once I finish putting up the rest of these holiday decorations around our house. Oh, and "Lou" our Elf on the Shelf is back which improves our girl's behavior- if ever so slightly. Britton's friend Beau was here this week, and said he was getting an Elf whom he plans to name "Gerry". The elf names always make me laugh.